BARCELONA TO GIRONA BIKE TOUR
From cosmopolitan Barcelona to legendary Girona, the quintessential cycling haven, travelling around the Catalan countryside and discovering its impressive scenery by passing through three natural parks and the enchanting rural areas they hide.
Three intensive days in the Catalan countryside, pedalling through landscapes where plains and mountains alternate in harmony with forests and fields. We'll go through the lush Montseny Natural Park, Biosphere Reserve, and we'll climb up to the highest point in the province of Barcelona, the Turó de l'Home, before continuing north to reach the monumental and gastronomic city of Vic.
The delightful Catalan villages of Rupit and Tavertet will take us deep into the colourful display offered by the beech tree forests in the Volcanic Area of La Garrotxa, and before we reach Girona we'll climb the legendary Rocacorba, the pole of attraction for many professional cyclists in the region of Girona.
TOUR INFORMATION:

Starting point: Barcelona
Arrival: Girona
Duration: 5 days, 3 stages
Recommended season: February to November
RENTAL BIKE:
2020 SCOTT ADDICT SE DISC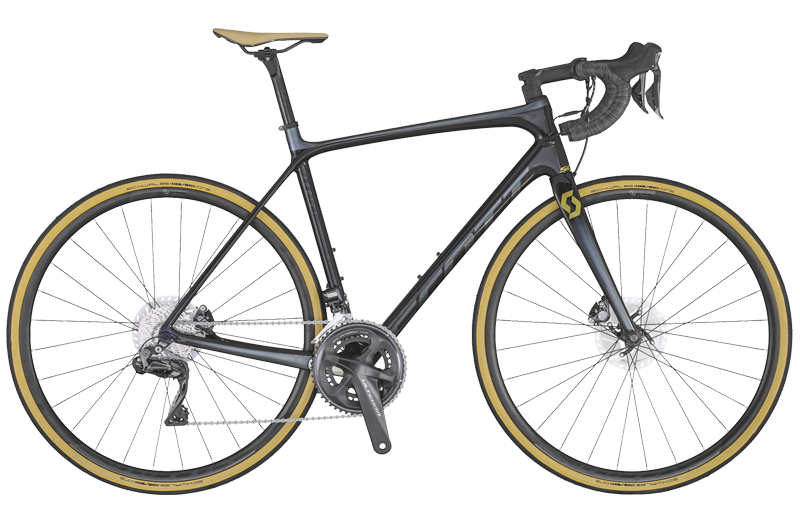 Look no further. Your next cycling adventure starts here!
Private Tour: Enjoy a guaranteed to run premium cycling experience with us. Choose your own dates and fill in the form to get your group's custom quote within 24 hours.
Scheduled Tour: Come cycle with us and meet other cyclists from all over the world on an epic adventure. Check date availability and book online in the Scheduled Tour section down below.
DAY 1 WELCOME TO CATALONIA!
PICK UP, TRANSFER AND WELCOME ROUTE
Our services begin. Pick up and transfer to our hotel in Barcelona.
Upon arrival at the hotel we will offer a briefing providing general information of the tour before proceeding to bicycles tuning for all those customers who have contracted our rental service.
In the afternoon and depending on your arrivat time, we will take a first approach ride to El Tibidabo magic mountain.
We will end the first day of the trip with a fantastic welcoming dinner in the hotel, with the whole team.
Note: For your convenience and if you plan to arrive by your own, you will be able to check in, indicating your name and our company name (TOURMALET 2015 SLU).
DAY 2 / STAGE 1 SANT CELONI – VIC
STAGE DESCRIPTION

We will start our trip with a short drive in a van that will take us from Barcelona to Sant Celoni, a town nestled at the foot of the Montseny Massif, where we will tackle the first challenge of the tour with the ascent of the Turó de l'Home, one of the longest and hardest mountain passes in Catalonia. We advise you to save some energy for the last 5 kilometres, a stretch frequently chosen by professional cyclists for training on its steep slopes.
After reaching the top, we'll carry on riding for a few kilometres in Montseny Natural Park to join up with another summit that is popular in the Catalan cycling world, the Alto de Santa Fe, which will delight you with wonderful views of the province of Girona.
Continuing the route along privileged roads of great natural beauty and without losing sight of the Montseny, we come to Viladrau, a charming rural village located to the south-west of our final destination, Vic. The bucolic spirit of its historical quarter and the renowned gastronomy of the capital of this inland area of Barcelona will undoubtedly be a perfect combination for completing this first intensive day of the tour.
ELEVATION: 1.495 m / 4904 feet
LENGHT: 25,6 km / 15,90 miles
AVERAGE GRADIENT: 5,8%
ALT DE SANTA FE DEL MONTSENY

ELEVATION: 219 m / 719 feet
LENGHT: 6,8 km / 4,22 miles
AVERAGE GRADIENT: 3%
DAY 3 / STAGE 2 VIC – LES PRESES

STAGE DESCRIPTION

Halfway through the tour, we tackle the stage that will take us to the region of La Garrotxa, a land of volcanoes and mediaeval villages.
Starting out from Vic and heading towards Les Guilleries Massif, the route is made up of peaceful roads that will lead to Manlleu, where we'll start an easy and pretty ascent to Tavertet, one of Catalonia's most picturesque and hidden villages standing on the top of some cliffs.
After reaching the summit of the first ascent in the stage, we'll ride down to Rupit, one of the region's best-preserved mediaeval villages where we'll be able to get our strength back or take a few photos of its famous hanging bridge.
We'll continue our route going uphill again to Coll de Condreu, an old mountain pass that used to join the towns of Vic and Olot that will take us a bit closer to volcanic land.
Before beginning the last scenic descent to arrive at today's destination, we'll visit the Sanctuary of Mare de Déu del Far, an old hermitage standing atop a mountain that offers superb views, to thus bring this beautiful stage to an end.
ELEVATION: 418 m / 1371 feet
LENGHT: 9,9 km / 6,15 miles
AVERAGE GRADIENT: 4,5%
ELEVATION: 164 m / 538 feet
LENGHT: 7,7 km / 4,78 miles
AVERAGE GRADIENT: 1,4%
DAY 4 / STAGE 3 LES PRESES – GIRONA

STAGE DESCRIPTION

The last stage of our tour begins in the middle of the volcanic area, where we'll ride our bikes surrounded by pastures and fields of crops in one of the most breath-taking and hidden regions in Catalonia.
Enveloped by landscapes where the striking volcanic land is displayed in all its splendour, we enter into the nature reserve of La Fageda d'en Jordà, with its beech tree forest that grows on a flow of lava. A few kilometres later, on the way to Banyoles, we'll visit Santa Pau, the beautiful mediaeval village with the greatest wealth of volcanic phenomena in the region.
After arriving in Banyoles, a town flanked by its great lake and the Rocacorba mountain range, we'll start the ascent to its legendary summit, a place of worship and a popular training area for numerous professional and amateur cyclists who live in the Girona region.
After a technical descent, we'll head towards Girona, the end of today's stage where we'll enjoy the last night of the tour in the cycling capital of Southern Europe.
DISTANCE: 767 m / 2516 feet
ELEVATION: 13 km / 8,07 miles
AVERAGE GRADIENT: 6,8%
End of our services. Early morning transfer to Barcelona.
After a few intense cycling days, this great experience will come to an end. We sincerely hope that you enjoy it as much as we do.
Thank you so much for trusting us and we look forward to seeing you soon!
Accommodation in selected hotels in double occupancy room with half-board.

Transfer of travellers as soon as they arrive to our country to their destination.

Execution of the tour by certified and multilingual bike tour guides specialised in tourism.

Supply of solid and liquid provisions during the tour including pasta or rice dish, energy bars and gels.

Support vehicle and roadside assistance.

Daily transport of luggage.

Mechanical service (doesn't include replacement components of privately-owned bicyles).

Visits to tourist attractions and tourist advice during the rides.

Routes accessed via Ride with GPS app.
Hired bicycles: includes comprehensive insurance, mechanical service, daily fine-tuning and components (check prices in Renthal Bikes section).

Activities and additional visits.
Transfers to our country.

Repair service and component replacement of privately-owned bicycles.

Minibar and extras in the hotel.
CANYON Endurace CF SL 8 2022
(Shimano Ultegra)
A carbon-fibre, disc brake endurance road bike built for your longest rides. This setup strikes the perfect balance between speed and comfort with a complete Shimano Ultegra groupset, 4iiii power meter, lightweight DT Swiss Endurance LN22 wheels and CANYON award winning VCLS 2.0 leaf spring seatpost.
CANYON Endurace CF 7 2022
(SRAM Rival AXS)
Built around the latest-generation Endurace carbon frame, this is an endurance bike built for all-day speed and comfort. A superb all-round package featuring wireless SRAM shifting and DT Swiss wheels wrapped in super-smooth 30 mm tyres.
CANYON Endurace:ON 2022
(e-road)
This endurance e-road bike delivers a complete performance package, pairing a powerful Fazua motor with a comfortable frame geometry. The Endurace:ON AL 7.0 looks as good as it rides, and eats up the kilometres for fun.
Look no further. Your next cycling adventure starts here!
Private Tour: Enjoy a guaranteed to run premium cycling experience with us. Choose your own dates and fill in the form to get your group's custom quote within 24 hours.
Scheduled Tour: Come cycle with us and meet other cyclists from all over the world on an epic adventure. Check date availability and book online in the Scheduled Tour section down below.
user
2023-02-28T11:34:23+01:00