BARCELONA HIDDEN SECRETS BIKE TOUR
If you would like to discover the mountains where bandits used to hide, if you want to soak up the lifestyle of traditional villages and enjoy their rich gastronomy, then this fabulous tour is just what you're looking for.
Three days that start in Vic, a historical town known for its large market square and numerous churches and convents in the old quarter. It's not surprising that back in the 16th century our accommodation started out as an old cloistered convent that has since been converted into a comfortable hotel. From here you'll ride along the mythic Bracons road and explore the beautiful Vall d'en Bas; you'll enjoy the impressive views of Collsacabra, you'll feel experience emotions on the high mountains of the Montseny massif and you'll relax among the meadows of El Lluçanès.
A tour for people who love real experiences, designed to show you the secret hidden spots of inland Catalonia.
TOUR INFORMATION:

Starting point: Vic
Arrival: Vic
Duration: 5 days, 3 stages
Recommended season: February to November
OPTIONAL BIKE:
2020 SCOTT ADDICT SE DISC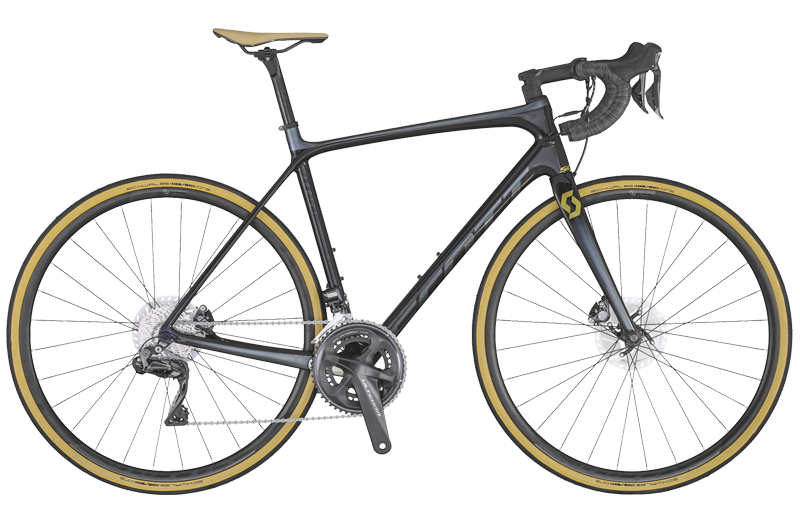 Look no further. Your next cycling adventure starts here!
Private Tour: Enjoy a guaranteed to run premium cycling experience with us. Choose your own dates and fill in the form to get your group's custom quote within 24 hours.
Scheduled Tour: Come cycle with us and meet other cyclists from all over the world on an epic adventure. Check date availability and book online in the Scheduled Tour section down below.
DAY 1 WELCOME TO CATALONIA!
PICK UP, TRANSFER AND WELCOME ROUTE
Our services begin. Pick up and transfer to our hotel in Vic, at the heart of inland Catalonia.
Upon arrival at the hotel we will offer a briefing providing general information of the tour before proceeding to bicycles tuning for all those customers who have contracted our rental service.
In the afternoon and depending on your arrivat time, we will take a first approach ride to Les Guilleries Natural Space and Sau Reservoir.
We will end the first day of the trip with a fantastic welcoming dinner in the hotel, with the whole team.
Note: For your convenience and if you plan to arrive by your own, you will be able to check in, indicating your name and our company name (TOURMALET 2015 SLU).
DAY 2 / STAGE 1 VIC – JOANETES – VIC
STAGE DESCRIPTION

We'll set off on the quiet roads of the Vic Plain, heading in a northerly direction. Far away on the horizon you'll be able to see the infinite Pyrenees mountain range, although closer to us there will be a first wall of mountains showing the silhouette of the Puigsacalm and the cliffs of Collsacabra, today's objectives.
The first mountain pass of the day, Coll de Bracons, will lead us to Puigsacalm, in the range that separates the districts of Osona and La Garrotxa. Our minds will be filled by the beauty and toughness of the climb until we reach the top, where we will be rewarded by the wonderful views of the Garrotxa Volcanic Zone Natural Park. We'll suddenly find ourselves within a rural postcard, in the little village of Els Hostalets d'en Bas, where we can sit at a table surrounded by volcanoes, calmly enjoying the scenery while tasting the delicious cured meats produced in the area.
On the way back we'll go uphill towards Coll de Condreu, which will take us to Rupit and Tavertet, two true gems hidden among the impressive Collsacabra mountain range. Before we leave the mediaeval village of Rupit, we can't miss visiting its spectacular suspension bridge and among the crags of the picturesque village of Tavertet we'll be able to enjoy the magnificent views of Catalonia's most hidden spots before descending again to Vic.
ELEVATION: 560 m / 1837 feet
LENGHT: 13,4 km / 8,32 miles
AVERAGE GRADIENT: 4,2%
ELEVATION: 531 m / 1742 feet
LENGTH: 10,2 km / 6,33 miles
AVERAGE GRADIENT: 5,2%
ELEVATION: 187 m / 597 feet
LENGTH: 4,9 km / 3,04 miles
AVERAGE GRADIENT: 3,5%

DAY 3 / STAGE 2 VIC – EL MONTSENY -VIC

STAGE DESCRIPTION

We will spend the day riding around the Montseny Natural Park, the quintessential cycling territory of the region of Barcelona. Our route will allow us to discover the most typical roads and landscapes of the Volta a Catalunya, while we complete the tour of the peaks of Turó de l'Home and Matagalls.
We'll start off by warming up our legs on Coll de Mansa, which will take us near Viladrau, lying at the foot of the natural park and the birthplace of the most famous Catalan bandit, Serrallonga. We'll leave the village behind and after riding next to the chestnut and beech tree forests where this infamous bandit used to carry out his robberies, we'll climb to Santa Fe del Montseny on one of the loveliest cycling ascents in Catalonia.
We'll descend through a leafy beech tree forest until we reach the junction where we'll take the road that goes to the top of Coll de Santa Helena with its fantastic views of the city of Barcelona. Here the bravest cyclists can tackle the really tough final kilometres that lead to the summit of Turó de l'Home. Standing at a height of 1,705 metres above sea level, it is the highest point of the natural park.
We'll finish the stage with two long descents, interrupted by the legendary climb to Collformic, lying at the foot of the famous peak of Matagalls and the gateway to the region of Vic, our host town.
ELEVATION: 166 m / 544 feet
LENGHT: 4,1 km / 2,55 miles
AVERAGE GRADIENT: 4%
ELEVATION: 661 m / 2168 feet
LENGHT: 17,9 km / 11,12 miles
AVERAGE GRADIENT: 3,7%
COLL FORMIC
(from la Costa del Monsteny)
ELEVATION: 729 m / 2391 feet
LENGTH: 13 km / 8,07 miles
AVERAGE GRADIENT: 3,2%

DAY 4 / STAGE 3 VIC – PERAFITA – VIC

STAGE DESCRIPTION

On our last day, we'll pedal in a northwestly direction to visit the high plateau of El Lluçanès, a region full of peaceful roads that are perfect for cycling and visiting its small country villages.
We'll begin the route pedalling among the farms and pastureland of the Vic Plain. At the foot of the emblematic sanctuary of La Gleva, we'll start climbing up the winding road that leads to the mythic Alt de La Trona, the setting for historical car rallies and exciting bicycle race stages.
Recuperando el aliento nos adentraremos en Perafita, donde el aroma a coca —torta dulce tradicional de Catalunya— que desprende un antiguo obrador de la plaza del pueblo nos llamará a un descanso.
Before starting the last climb of the day, in this case to Fontfreda, we'll visit the small village of Oristà where Perot Rocaguinarda, another popular legendary bandit, was born in 1582.
When we're a few kilometres from Vic, we can't miss the opportunity to stop in Santa Eulàlia de Riuprimer. Here we'll be able to enjoy the best gastronomy of the area in a mythic restaurant where all the cyclists in the region like to meet up. Its exquisite dishes will be the best way to end this amazing tour.
ELEVATION: 411 m / 1348 feet
LENGHT: 12,6 km / 7,82 miles
AVERAGE GRADIENT: 3,3%
ELEVATION: 401 m / 1315 feet
LENGTH: 8,4 km / 5,21 miles
AVERAGE GRADIENT: 4,8%
End of our services. Early morning transfer to Barcelona.
After a few intense cycling days, this great experience will come to an end. We sincerely hope that you enjoy it as much as we do.
Thank you so much for trusting us and we look forward to seeing you soon!
Accommodation in selected hotels in double occupancy room with half-board.

Transfer of travellers as soon as they arrive to our country to their destination.

Execution of the tour by certified and multilingual bike tour guides specialised in tourism.

Supply of solid and liquid provisions during the tour including pasta or rice dish, energy bars and gels.

Support vehicle and roadside assistance.

Daily transport of luggage.

Mechanical service (doesn't include replacement components of privately-owned bicyles).

Visits to tourist attractions and tourist advice during the rides.

Routes accessed via Ride with GPS app.
Hired bicycles: includes comprehensive insurance, mechanical service, daily fine-tuning and components (check prices in Renthal Bikes section).

Activities and additional visits.
Transfers to our country.

Repair service and component replacement of privately-owned bicycles.

Minibar and extras in the hotel.
CANYON Endurace CF SL 8 2022
(Shimano Ultegra)
A carbon-fibre, disc brake endurance road bike built for your longest rides. This setup strikes the perfect balance between speed and comfort with a complete Shimano Ultegra groupset, 4iiii power meter, lightweight DT Swiss Endurance LN22 wheels and CANYON award winning VCLS 2.0 leaf spring seatpost.
CANYON Endurace CF 7 2022
(SRAM Rival AXS)
Built around the latest-generation Endurace carbon frame, this is an endurance bike built for all-day speed and comfort. A superb all-round package featuring wireless SRAM shifting and DT Swiss wheels wrapped in super-smooth 30 mm tyres.
CANYON Endurace:ON 2022
(e-road)
This endurance e-road bike delivers a complete performance package, pairing a powerful Fazua motor with a comfortable frame geometry. The Endurace:ON AL 7.0 looks as good as it rides, and eats up the kilometres for fun.
Look no further. Your next cycling adventure starts here!
Private Tour: Enjoy a guaranteed to run premium cycling experience with us. Choose your own dates and fill in the form to get your group's custom quote within 24 hours.
Scheduled Tour: Come cycle with us and meet other cyclists from all over the world on an epic adventure. Check date availability and book online in the Scheduled Tour section down below.
Gerard Monells
2022-12-23T14:48:53+01:00
Girona Self-Guided Road Bike Tour
Explore the peaceful roads where professional cycling teams located in Girona train while you discover, by yourself, the wonderful Costa Brava and its delicious gastronomy.